"For anyone born after 1963, there is the Sun, the Moon. And the Rolling Stones". Keith Richards was right. The heartbeat guitarist of the 'greatest Rock'n'Roll band of all time', as the saying goes, perfectly measures the magnitude of the Stones phenomenon: planetary, immortal.
Une sélection de Shaniah Asha Gibson / @TRP, Public Relations Cabinet
Insta | Linkedin | Facebook | Insta JSH | Insta SWP | S'abonner à JSH
In terms of fame as well as longevity, Jaquet Droz also knows music quite well. And like the Stones, Jaquet Droz also has a history of touring the world. Created in 1738, Jaquet Droz was the first watchmaker to travel the globe exhibiting his creations to the kings and emperors of Europe and East Asia.
However, the essential element is not the Rolling Stones, nor Jaquet Droz, but what brings them both to life: the ultimate fan, the collector, the aficionado. Jaquet Droz's new strategy is dedicated to this person with the creation of unique, very high-level timepieces, animated by unique, customizable automatons, that they will be the only ones to own. The ultimate collector's item, intimate and personal, imbued with priceless emotional value, such as a signed autograph by Mick Jagger or a beer shared with Ronnie Wood.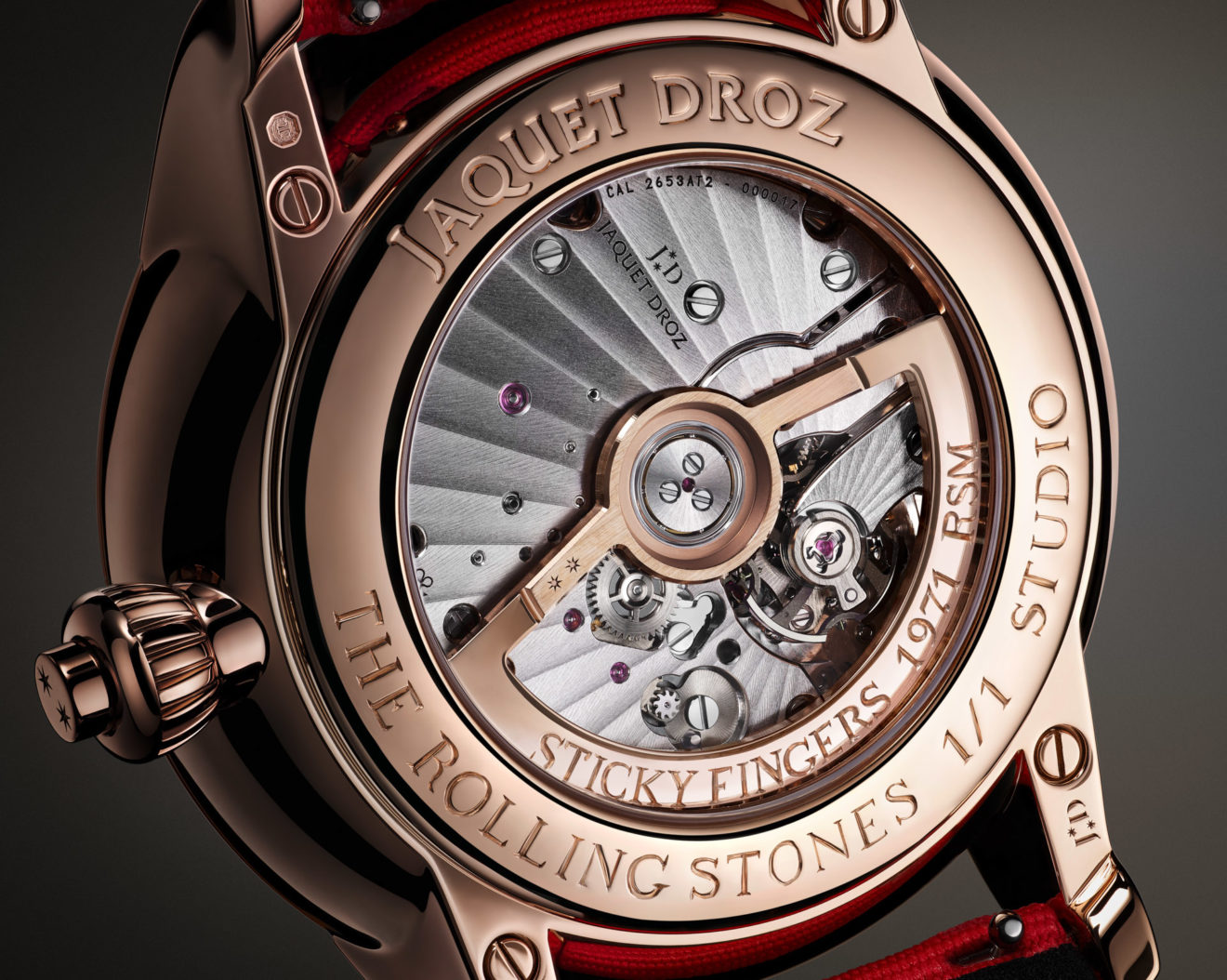 Today, this timepiece exists The Rolling Stones Automaton. In a 43 mm red gold case, the Jaquet Droz craftsmen have reproduced the Stones stage set to perfection by hand. We can find, Ronnie Wood's Fender Strat and double stack, the minimalist drums of the late Charlie Watts, and Keith Richard's famous five-string guitar, which has carved the most legendary grooves in rock and roll.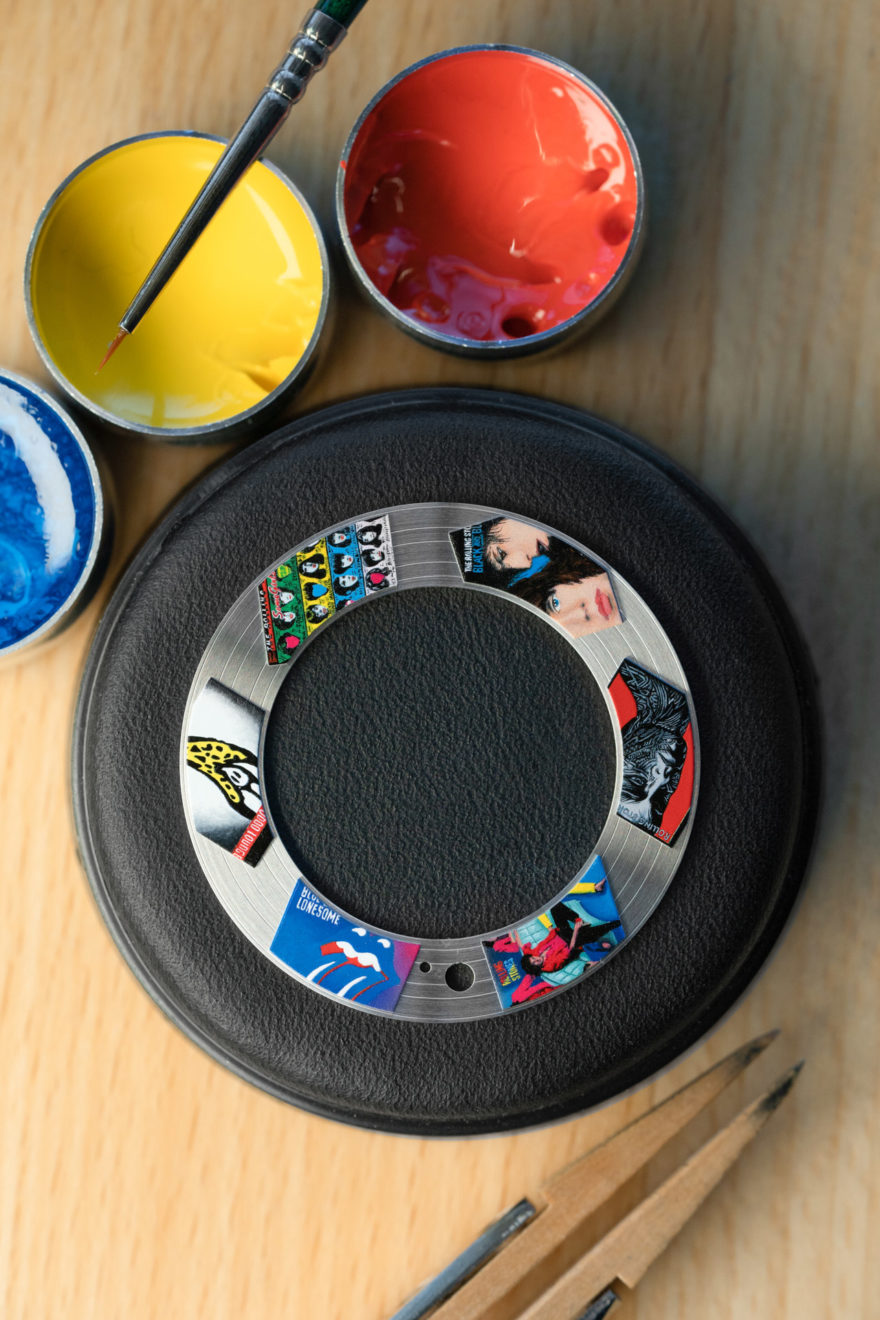 These mythical grooves are also represented, with their original cover, in the form of six iconic albums from 1971 to the present day. Each collector will be able to choose the covers of these albums. They will be reproduced by hand by the craftsmen of Jaquet Droz on a disc able to rotate, on demand, around the central stage. The rotation lasts about thirty seconds and can be operated eight consecutive times thanks to the push-piece inserted in the crown, at 3 o'clock. But that's not all: the power reserve is indicated at 8 o'clock by a cam restoring the articulated arm and the diamond of a vinyl record player. Just below, the iconic Stones logo moves up and down as the tongue simultaneously moves left and right.
Faithful to its traditions, Jaquet Droz has spread treasures of creativity to bring this animated scene to life. The guitars and their amp are individually shaped by hand from a block of red gold, engraved then painted. The cymbals are made of a slightly curved gold disc in order to reproduce the precise curvature. Their stand is represented by a white gold thread. The various drum toms are also made of white and red gold threads, with a diameter from 1.2 to 2.3 mm. The exact color tone of each instrument, the tweed finish of the amp, the pickguard of the guitars, the tolex of the loudspeakers: every tiny detail, the slightest imperceptible reflection, is painted by hand. Even Mick Jagger's harmonica is reproduced, next to his microphone, in a block of gold that does not exceed a few 1/10th millimeters. On the sapphire case-back, the red gold oscillating weight will be engraved with the name of the chosen album, among the 23 available, by the collector to illustrate the image under the central stage – with its release date and the name of the studio where it was recorded, leading to a unique piece duly engraved "1/1"