Emerging from the fundamental watchmaking terroirs of the Jura, Vicenterra's three- dimensional GMTs are transcending the all-black territories dear to collectors. Total eclipse of the sun, secret rendezvous between the earth and the moon, to be adjusted every 126 years.
By @TRP, Texts & Relations, Production – PR Cabinet
Follow us on Instagram & Facebook

All of a sudden, the adventurine cosmos of these two AstroLUNAs turns to the black, always sparkling with galactic cracklings. This watch offers watch lovers the dark side of a moon that needs to be adjusted every 126 years while the earth's ocean areas are turning blue-night. Still in the preorder process, Vicenterra's elegant, rupturistic micromechanical poetry, launched in spring 2021 in two series of 99 pieces, is now available in two new 25-piece extraterrestrial variants, entirely dark, mysterious and deep.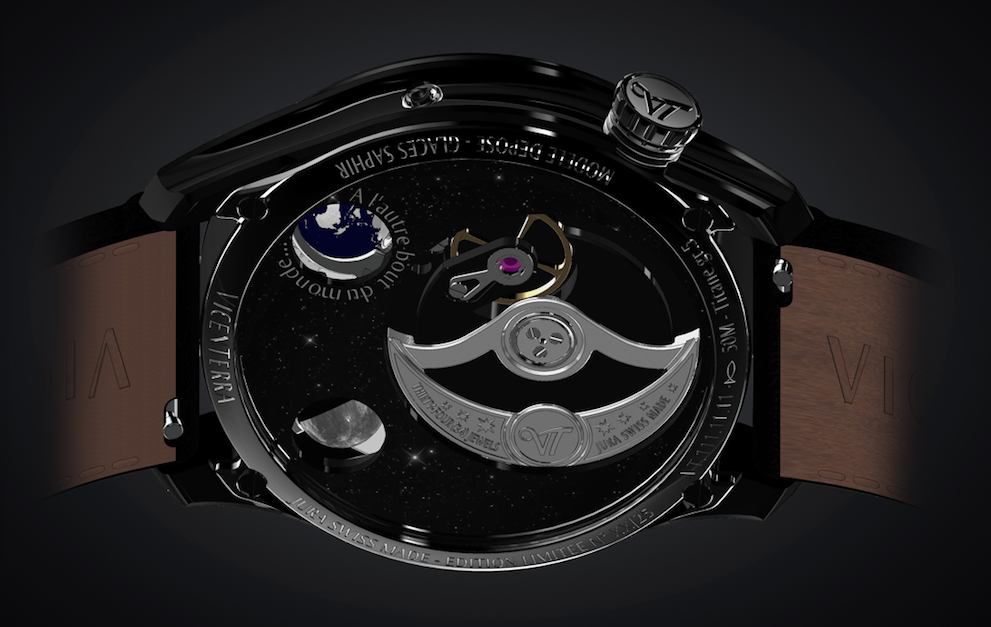 Rare and poetical complications
Watching the earth from above has been Vicenterra's signature feature since its founding in 2010. By 2021, with the launch of this UFO watch, named AstroLUNA, the earth and the moon can be contemplated, this time from a little higher, certainly from the sun.
Read more by downloading the press release
A downloadable link for more HD pictures can be found on the press release
Vicenterra specific complicated module: additional functions completing the basic ones of the Vaucher Manufacture Fleurier Seed 3000, one of the most noble and exquisitely decorated automatic calibers in Swiss Made