On April 25, 2021, under the auspices of Antiquorum, three gousset watches of priceless heritage value for the canton of Neuchâtel may evaporate in Hong Kong: Ditisheim, Breguet, Grandjean, three names that are part of Swiss watchmaking history.
By Joël A. Grandjean, publisher and editor-in-chief of JSH® Magazine and Swiss Watch Passport – Subscribe a JSH abo.
But where have the patrons and the public funds gone to prevent such pieces from escaping the canton's watchmaking museums and being sold somewhere in Asia or somewhere else in the world? Indeed, these incredible witnesses of an exceptional know-how are also full of symbols and of such a historical power that it is appropriate to talk about "non-assistance to endangered treasures".
'Symbols and historical power: it is a matter of 'non-assistance to treasures in danger'.
In the Antiquorum auction catalog, which will occur live in Hong Kong, lots 137, 138 and 397 are likely to remove a few pages of Neuchâtel's watchmaking history for ever. ages that should rather find shelter in the heart of the MIH, the International Watchmaking Museum in La Chaux-de-Fonds, or even in the Château des Monts, the Museum in Le Locle. May these words inspire some awareness on this side of the world…!
Lot 137, the Paul Ditisheim timepiece of the Messager Boiteux

This model is named after a prestigious watchmaker from La Chaux-de-Fonds, who is related to the origins of the Museum: Paul Ditisheim, a watchmaker who created his own manufacture in La Chaux-de-Fonds in 1892 to "produce very high precision watches and jewel watches". This watchmaker, who went to Berlin and then Paris to complete his training, invented his own compensating balance (Swiss patent No. 98 234) in 1891. He also invented a new oil with remarkable stability, while his expertise as a skilful regulator enabled him to collect numerous Observatory prizes in Neuchâtel and Kew. He is associated with the work of Dr. E. Guillaume (1861-1938) in the use of the "integral" Guillaume balance and the self-compensating Elinvar balance-spring, as well as with the research of Dr. Paul Woog for the development of Chronax oils.
Paul Ditisheim, a young watchmaker at the time, was commissioned to make one of the four watches that the Neuchâtel government intended to offer to four prominent personalities as part of the splendid celebrations of the 50th anniversary of the proclamation of the Republic of Neuchâtel on March 1, 1848. The year was July 1898 and the whole Canton was preparing to celebrate its definitive attachment to Switzerland. The lucky one to receive this official gift was Henry-Ernest Bouvier (1862-1913). He was an eminent local figure, the owner and director of the almanac "Le Véritable Messager boiteux de Neuchâtel". He was also the brother of the famous Neuchâtel painter-architect Paul Bouvier (1857-1940).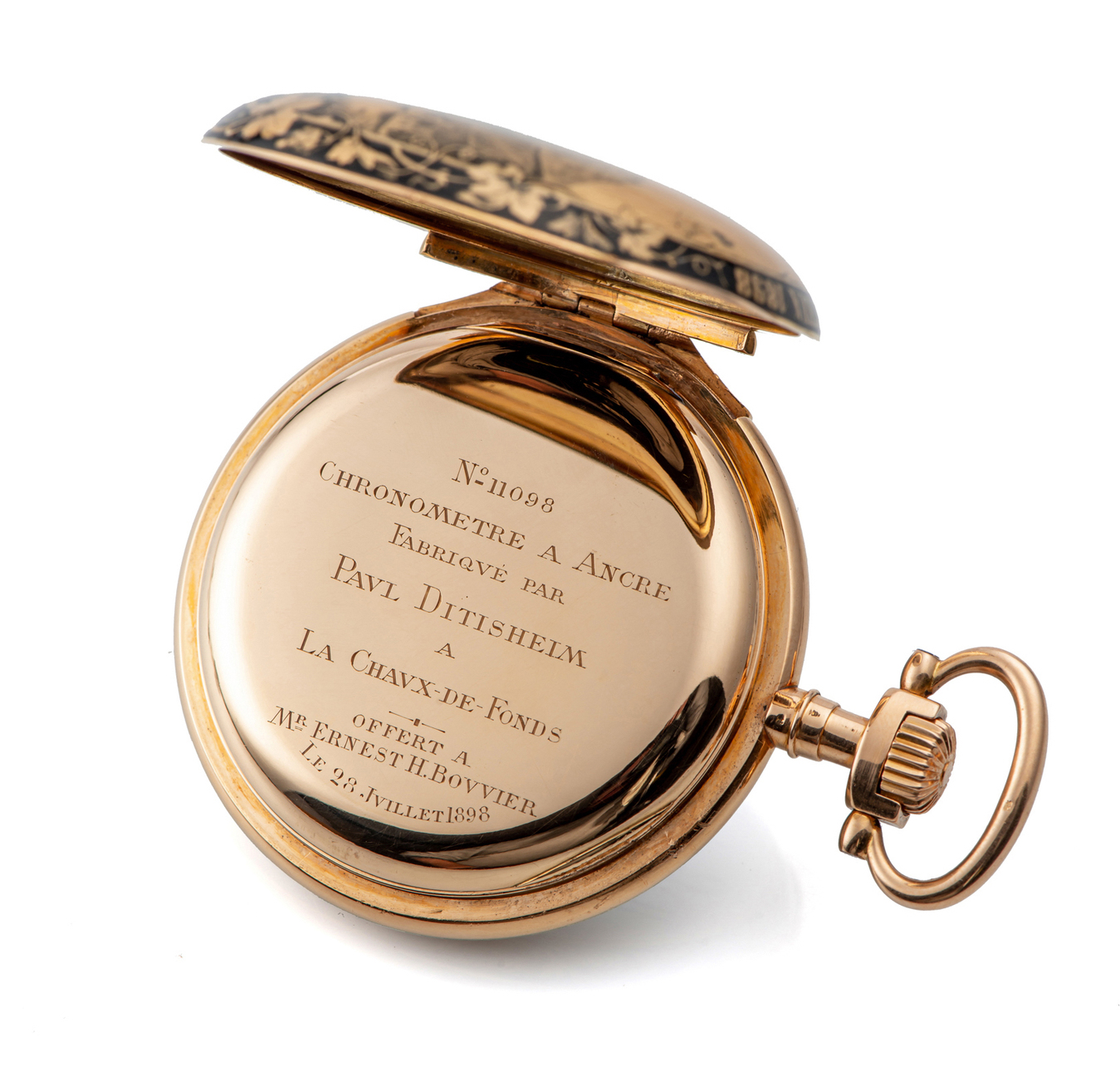 The 52.1 mm diameter Pocket watch is a round "Louis XV" anchor chronometer in 18K yellow gold and enamel, with an open window and keyless winding. With an auxiliary second at 6 o'clock, it is emblazoned with the famous one-legged man facing the Protestant Collegiate Church of Notre-Dame de Neuchâtel and the architectural landscape surrounding the Coline du Château. Its 18 ½ line ébauche with lever escapement certainly came from LeCoultre in the Vallée de Joux. Even in its original box, perfectly preserved in its protective carton, the dedication is omnipresent: 50th anniversary of the Republic, July 11, 1898, Chronometer No. 11098 (case and caliber) with its Neuchatel Observatory bulletin dated December 1897. It seems that this well preserved treasure comes directly from a "Bouvier" descendant.
Lot 138, the Breguet of the Prince of Neuchâtel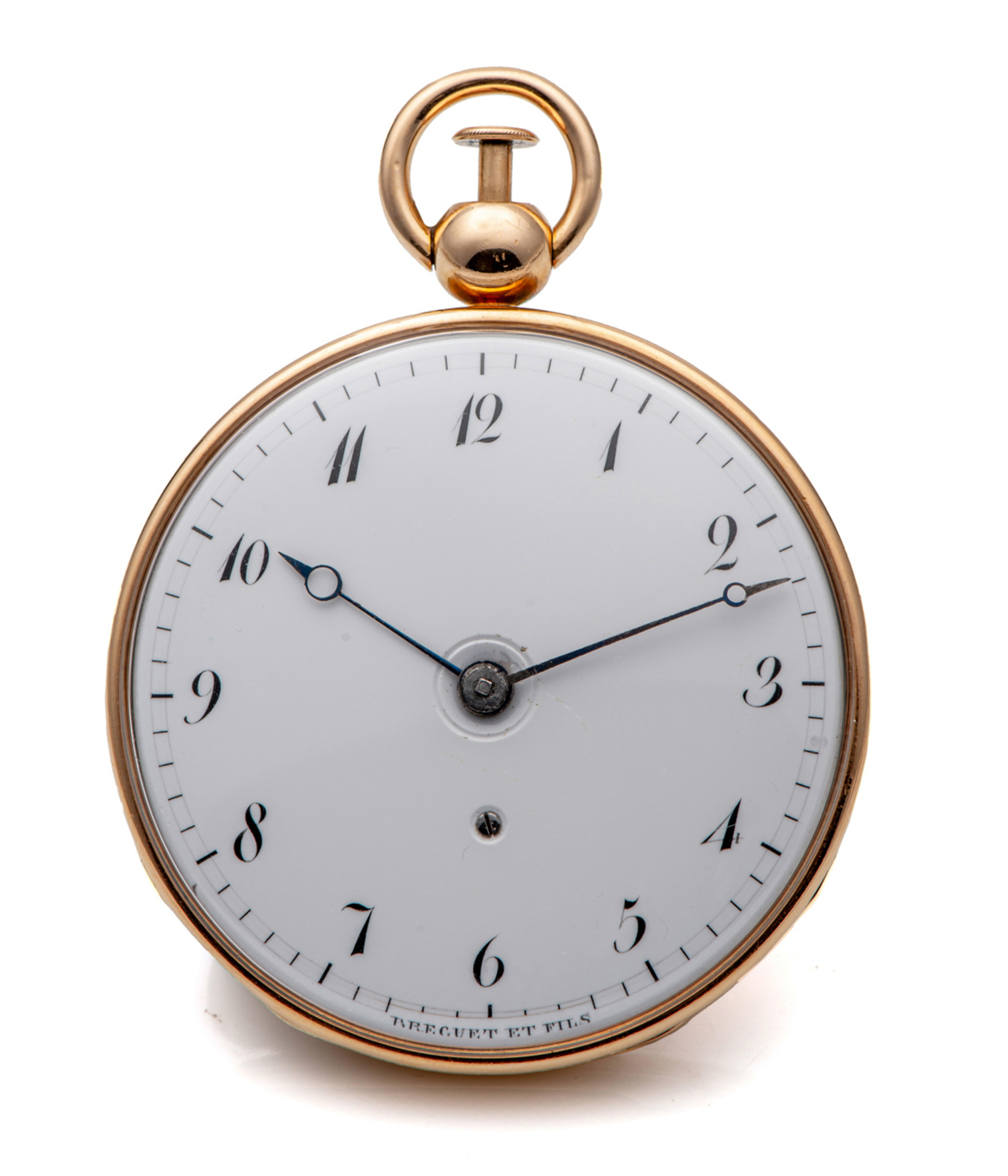 Another sacred historical treasure about to evaporate in a collector's safe is this gold "quarter repeater with bridges" timepiece made by Abraham Louis Breguet, whose case N° 3 095 has been attributed to Pierre-Benjamin Tavernier of Paris. It was the property of Alexandre Berthier (1753-1815), Sovereign Prince of Neuchâtel and Valangin, 1st Prince of Wagram, French general then Marshal of the Empire, Minister of War and Chief of Staff of Napoleon. Excuse me! Crafted between 1812 and 1813, it houses a 20-line caliber with a cylinder escapement numbered 2,261. The Breguet archives mention that it has been sold on May 19, 1813 for the sum of 2000 francs.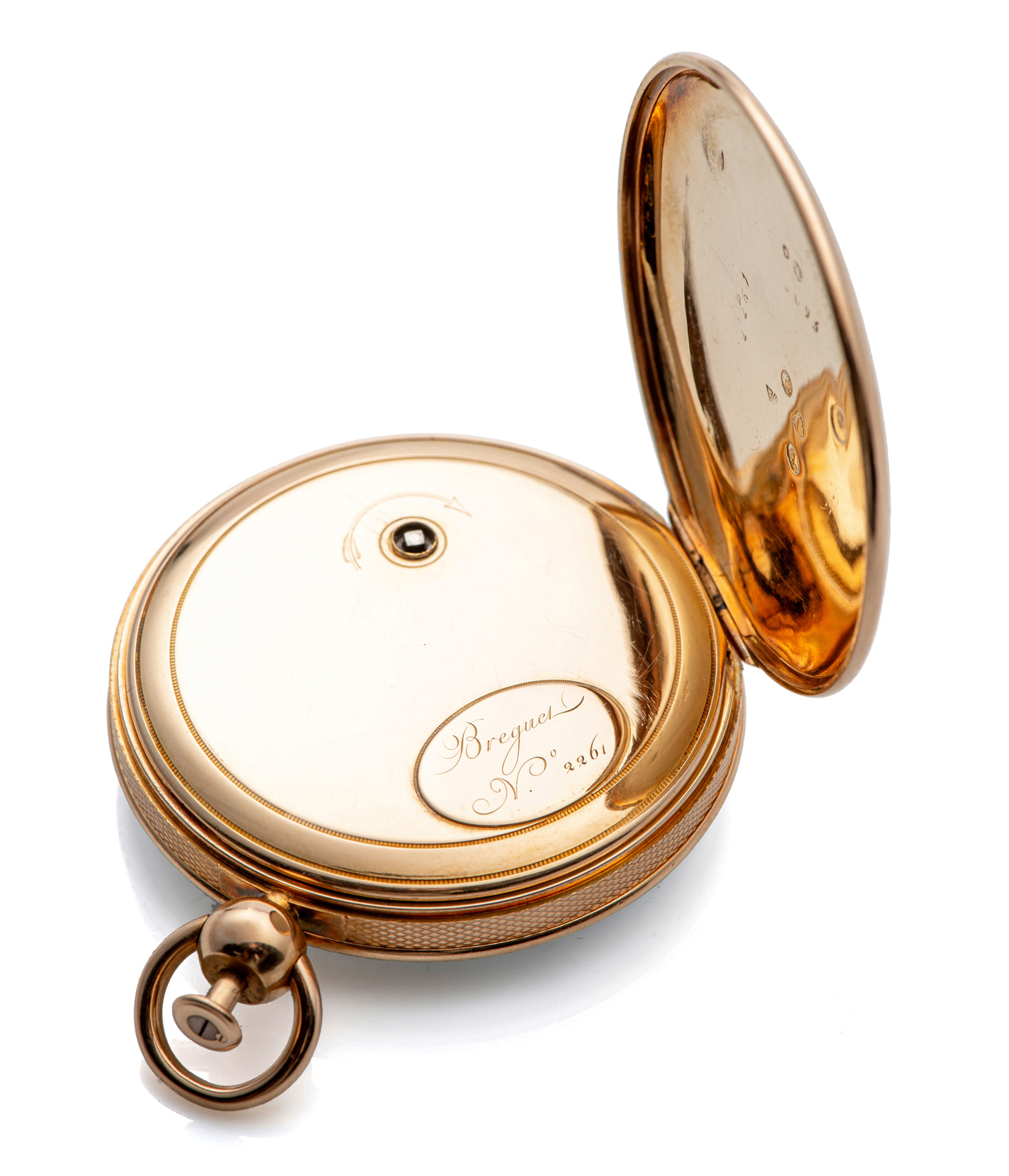 Lot 397, a Henri Grandjean watch that survived Chile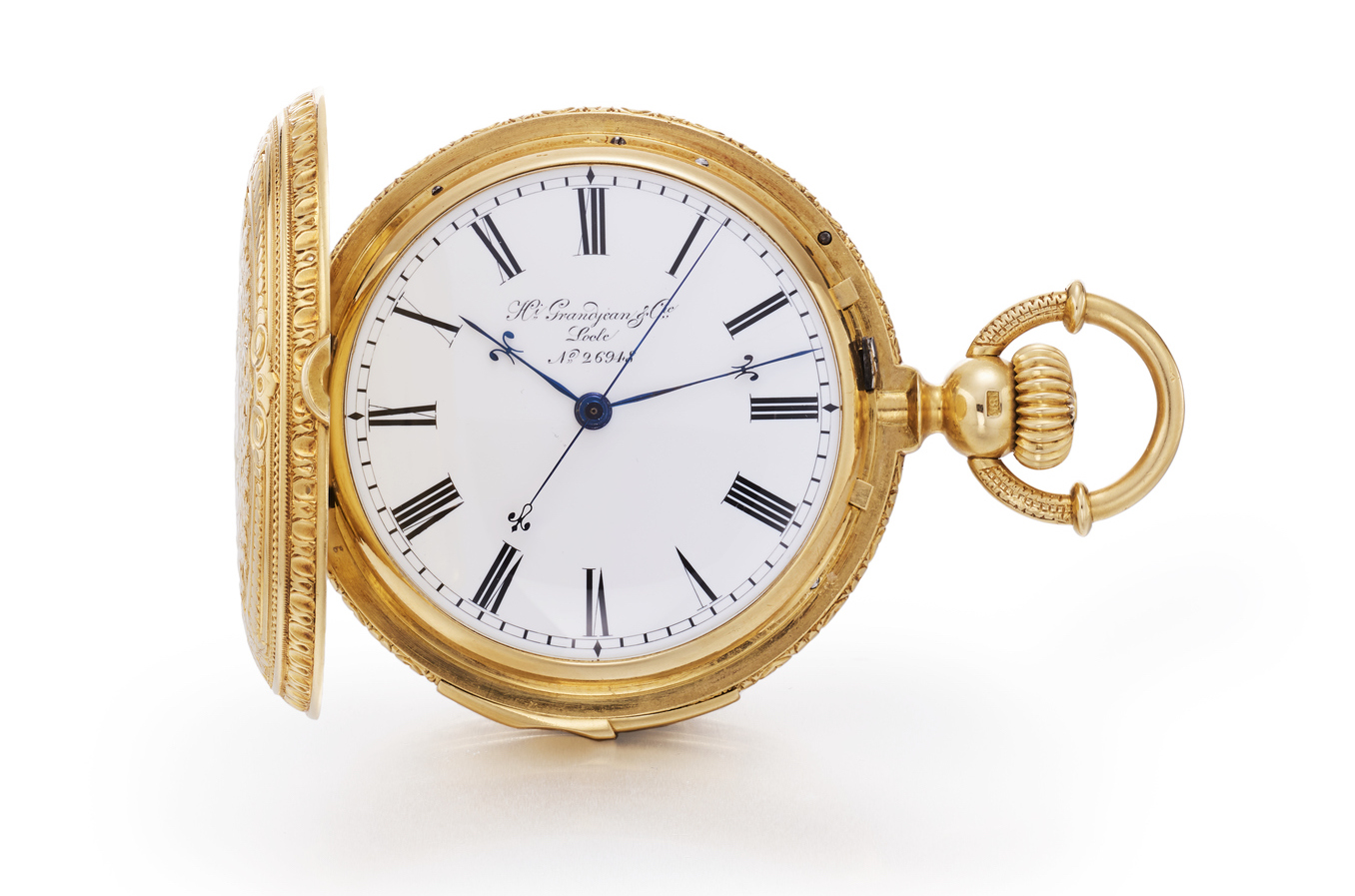 One of the most valuable-in-progress world's former names is Henri Grandjean, a watchmaker and politician from Le Locle and a former Federal Councillor, who commissioned the building of the Neuchâtel Observatory and, ten years later, the Le Locle School of Watchmaking. Henri Grandjean is also credited with the construction of the "Quartier de l'An Neuf" (today known as the "Quartier du Progrès"), an urban area dedicated to the housing of watchmaking staff, to whom we owe the addition of Le Locle to the dossier of the town of La Chaux-de-Fonds, which was proposed ten years ago as a UNESCO World Heritage Site. Son of David-Henri Grandjean, from the Entre-deux-Monts, this watchmaker was a precision enthusiast. According to world expert Helmut Crott, every great collector in the world owns at least one of these watches, although he produced only 180 during his lifetime. As for the Musée du Locle, Curator Morghan Mootoosamy is rather proud to watch over a "Grandjean Fund" of rare archival documents as well as a few jealously safeguarded horological specimens.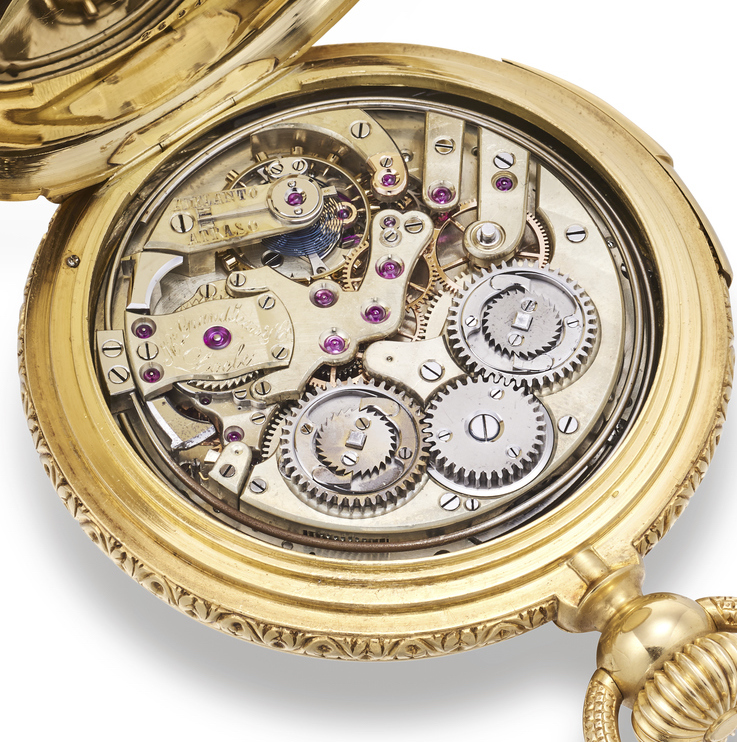 This yellow gold pocket watch that might disappear forever in Hong Kong is keyless winding. It was made for the South American market. It concentrates three major complications, of the kind that excite collectors: quarter repeater on two steel gongs, activated by a slide positioned at 6 o'clock, a "deadbeat seconds" complication, here independent with its external graduation, and finally two barrels with differential gears and bidirectional winding inspired by the works of Sylvain Mairet. mong the finely chiseled decorations that are so characteristic of master watchmaker Henri Grandjean, there is a dedication to a certain Alejandro A. Cameron (1868-1950) who was the head of the Tierra del Fuego mining company in Chile.
©Antiquorum Pictures | Antiquorum Official Website