"So creepy!" That was my first reaction to this first timepiece capable of indicating a "life expectancy reserve." But when I realised that Dominique Renaud and Julien Tixier are the ones behind this Latin name, I got convinced…
By Philippe Perret du Cray / JSH® Magazine & Swiss Watch Passport's Partner
Insta SWP | Insta JSH® | Facebook | Twitter | Linkedin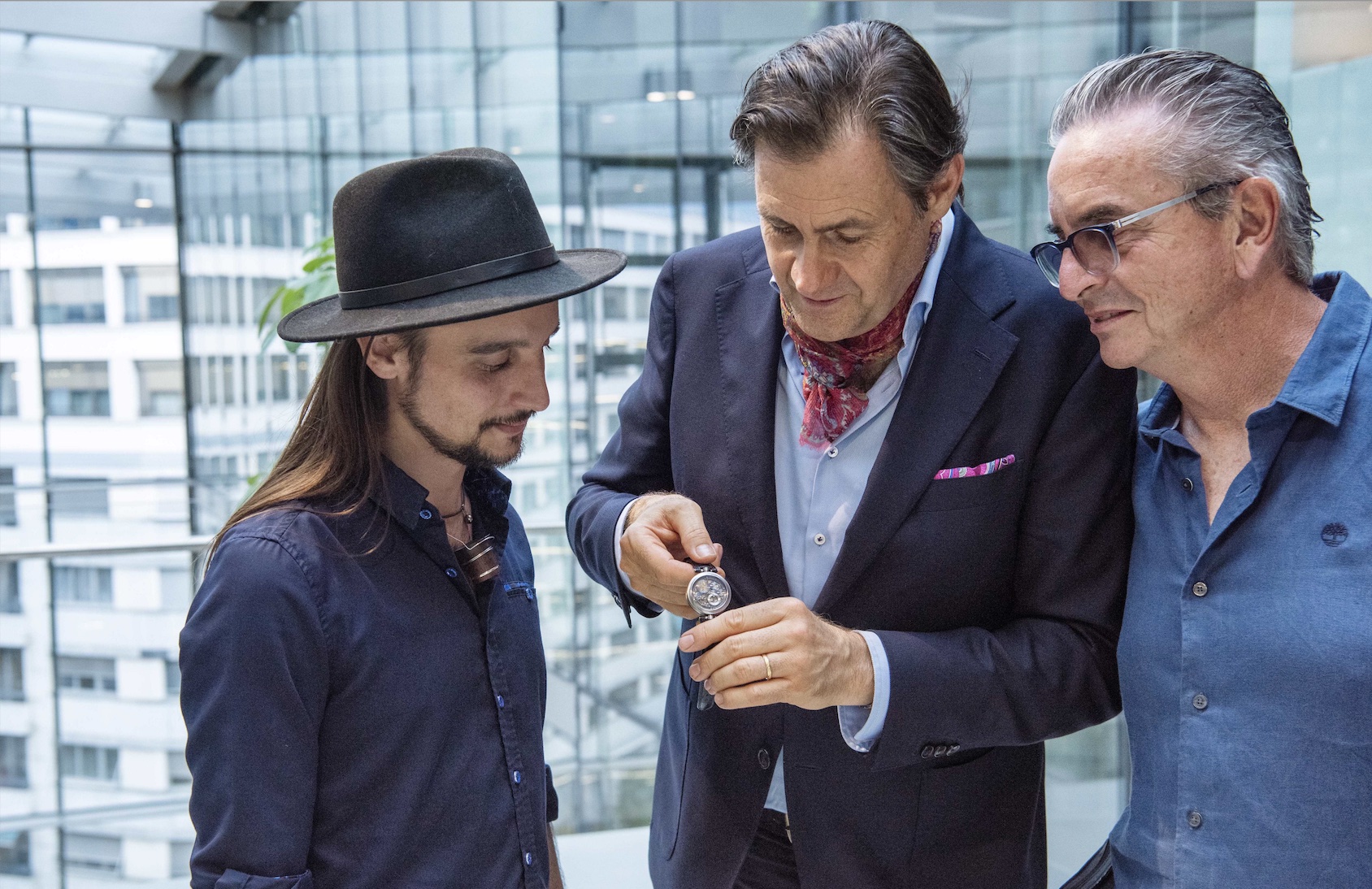 Well, good for me! Because time is inexorably passing and the achievement of Tempus Fugit by the two renowned watchmakers Dominique Renaud (r) and Julien Tixier (l) challenged by Dr. Benoît Dubuis (centre) is much more than a complicated exceptional watch. It is an awareness that the time has come to get a grip on things!
Three fascinating enthusiasts, one killer algorithm!
Tempus Fugit? It is a philosophy of the passing of time, the coming together of the most advanced biotech knowledge and the best in mechanical watchmaking. Finally, it is a superlative timepiece. A watch able to display the amount of time you have left to live, statistically determined (phew!) on the basis of an algorithm developed by EPFL researchers.
After a two and a half year development, this secular perpetual calendar, the smallest in the world, is now capable of keeping track of the subtleties of the Gregorian calendar for 9'999 years. A huge achievement if you realise that leap years are every 4 years, except when you're facing a hundred but still every 400 years… Easy! As Dominique Renaud says quite simply, "first of all, it was necessary to free ourselves from all temporality and to touch eternity with the watch in order to provide a life expectancy reserve for the owner, even if he or she is destined to live much less long than the watch."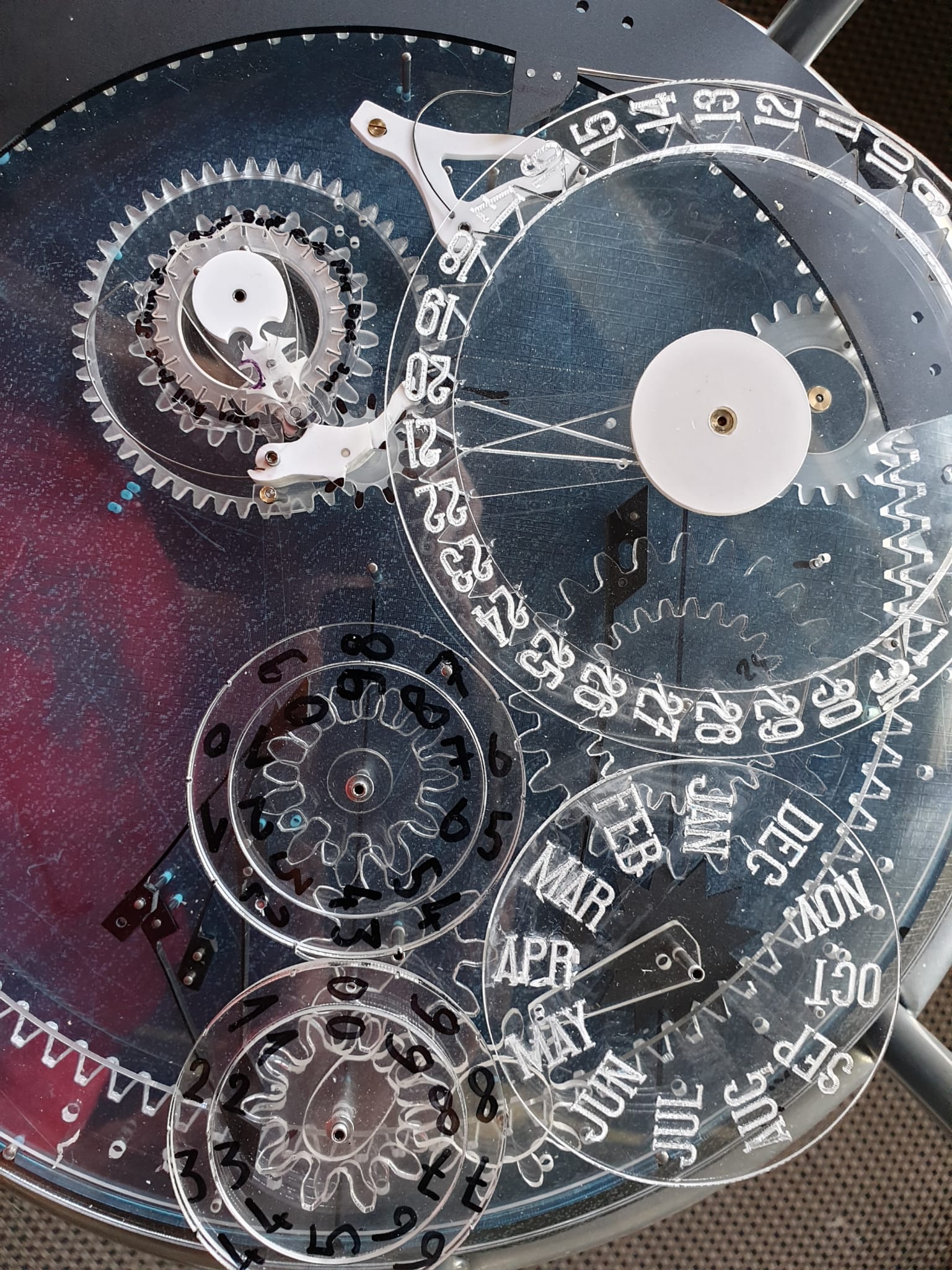 Incentive tool to intensive living, indicator of 'aspiration reserve'
What initially puzzled me was this sleazy idea of telling a wearer how long he or she has left to live.Fortunately, this indication is quite statistical, specific to each wearer according to his or her age, DNA, personal and family history, habits and living environment… This means that Tempus Fugit is in no way intended to be a morbid countdown, but rather an incentive to live each second of what remains to be lived to the fullest and to undertake the projects that we hold dear. And now it talks to me! At a little over 50 years old, even if I've done a lot of things in my life, there are still a lot of projects I'd like to do…… Tempus Fugit is meant to remind me that my time is unfortunately limited and that it might be a good idea to start now if I want to achieve the things that matter to me…
So, from an idea that at first sight seems gloomy, you get an extremely positive and motivating concept: a real anti-procrastination booster!
If you get yourself going and have a bit of luck, the Tempus Fugit indicator will probably start to show you all the extra bonus you will gain on the stats…"
The ultimate challenge, the biotech complication
To materialise this project, which was born in Dr. Benoît Dubuis' mind, a Life Sciences scientist and Head of the Geneva Biotech Campus, "it would have been simpler to create an application and integrate it into a smartwatch or even a smartphone… but we would have obtained one more 'device', with its electronic coldness and obsolescence. Moreover, it is much more attractive when it is complex! For the man who was in control of the scientific side of the story, namely the algorithm determining the "life reserve," the challenge was real.
To stimulate watchmakers to work on virgin territories, to give substance to a disruptive concept, almost more philosophical than horological…"
Indeed, even if watchmakers have mastered for ages the Greek temporal notions of 'Chronos' (physical time 'segmentable' into hours, minutes and seconds) and of 'Aiôn' (the cyclical time of the seasons, the moon, the day and the night…), they had never materialized the metaphysical time of 'Kairos': that convenient time, that useful time that one feels as "the right moment."
In this dimension, emotions generated by a timepiece stemming from such a horological expertise are fully meaningful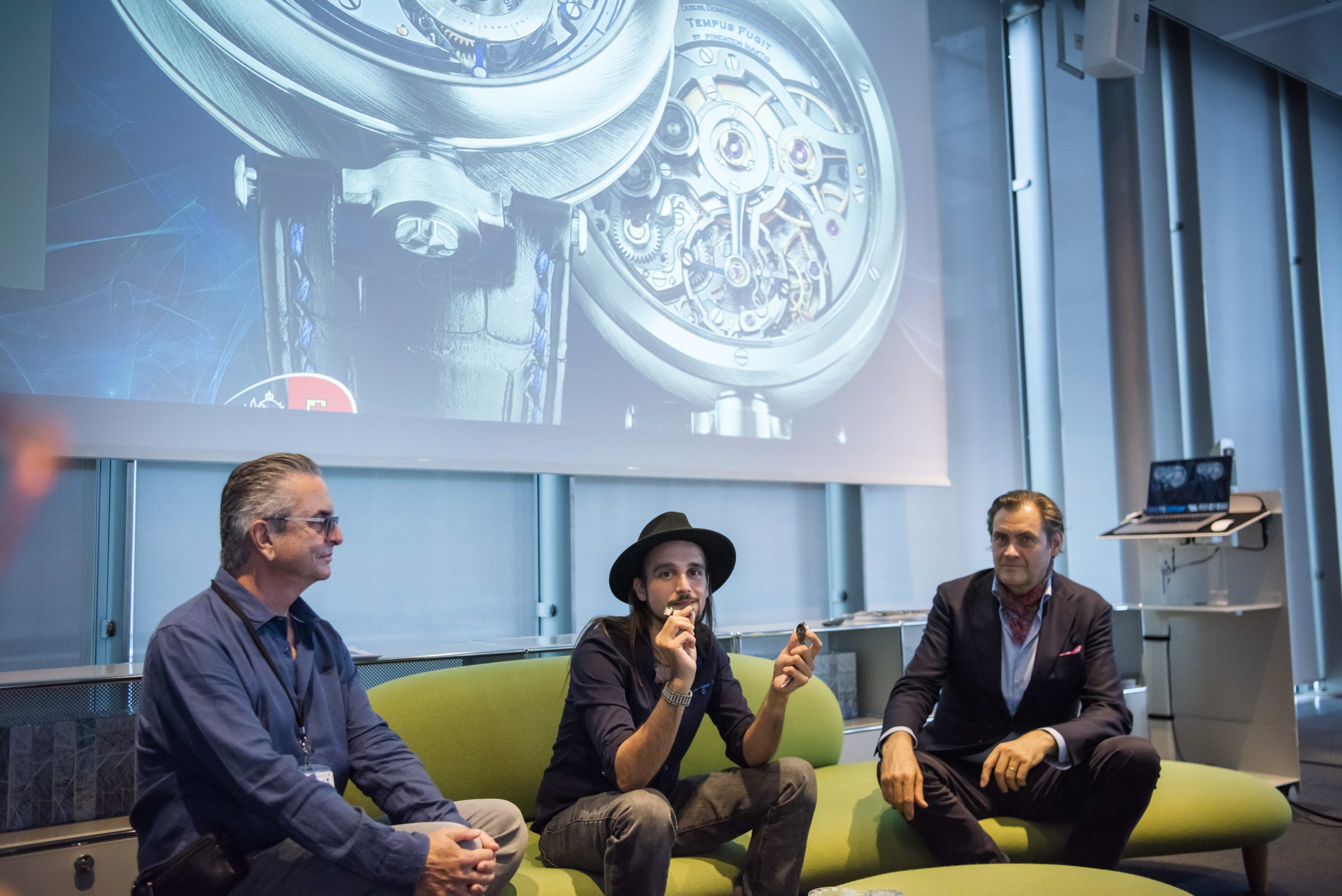 The human venture facing eternity
Listening to the trio behind Tempus Fugit, this timepiece can be summed up as a wonderful human adventure and an incredible challenge… All the more so since Benoit Dubuis called on his friend Dominique Renaud, who has been striving for many years to expand the limits of chronometry, as well as on the talent of the young watchmaker Julien Tixier, who first of all brought "Tempus Fugit" to virtual life on his computer, before beginning the manufacturing and decorating of all the components in his workshop in the Vallée de Joux. "Except for one single part, which was outsourced to a neighbour due to time constraints, since the piece had to be ready for the Geneva Watchmaking Grand Prix…" he explains for the sake of precision. Before assembling the more than 300 components of this particular timepiece. "One mastermind and four hands" as Tixier modestly describes it.
The funniest thing about this eternity story is that if it wasn't for the GPHG deadline, in which the timepiece is shortlisted in the "Calendar and Astronomy" category, we should bet that our two watchmaking companions would still be trying to find the little bug to go a little further… In order to fully comply with the instructions given to them by their project manager, Dr. Benoît Dubuis: "Go beyond your limits, let yourself go and have fun"!
Tempus Fugit, in a nutshell
A secular perpetual Gregorian calendar wristwatch, hand-wound with a key, beating at 18,000 vibrations with a rather special direct escapement with detent. It displays the hours, minutes, days, dates, months and years for up to 10,000 years, as well as the owner's specific "life expectancy reserve". The icing on the cake is that it is the smallest secular QP in the world and the watch has a secret compartment, a kind of time capsule, which will only deliver its message at the end of the life expectancy and whose mechanism is inspired by the vaults. If I admit that all these indications on such a small dial are relatively difficult to read for my poor fifty-year-old eyes, I confess that it is not very important in comparison with the "Life message" this masterpiece watch is conveying. _PPDC