My name is Amandine, I am 11 years old. I am keen on watchmaking and, since the age of 7, when asked what job I want to do, I answer "watchmaker-designer at Bulgari"… In the meantime, I am interviewing people in the sector.
By Amandine, the youngest Swiss Watch Passport columnist
Portrait Amandine | Insta SWP | Insta JSH® | Insta Amandine | Facebook | Twitter | Linkedin
So shall we go on? We're not here to sleep.
Uh yes… so who are you at the office?
"Mr. 100,000 volts." I'm running meetings in all directions, from the simplest to the most complicated. I jump from one thing to another, from research and development, to watch design, legal, finance or sponsoring… it never stops! The days are very busy. I don't sleep much at night, so I wake up at 4am and start working.
And in real life?
Same thing, "Mr. 100'000 volts"… But I'm starting to learn to relax a little bit. To calm down… I am 58 years old now so I have to rest. I don't have the energy I had when I was 30… People who don't know me think I'm complicated to live with. You can ask my shock partner. She can confirm that I'm actually quite easy to live with.
So how did you get into watchmaking?
Completely by accident. I was on vacation in St. Barths and went into a store to change a leather strap on a Breitling watch. This led to an incredible encounter. Six months later, the person in question offered me to work for Audemars Piguet. I didn't know the brand at that time.
What do you remember about your first watch? Was it this Breitling?
Absolutely not! My first watch was a Rolex and I won it in a bet against a very good golf player. He was one of the best French golf players I had beaten in competition and we had bet his watch. So I was able to steal it from him (laughs). My second experience I have to mention it. I was a Swatch nut. I always loved that brand. I still love it today. I was one of the biggest Swatch collectors at one point, and I sold them my entire collection in 1996.
Which watch has the most sentimental value for you today?
(Hesitation) Not one in particular because I have a beautiful collection… Of course, after 29 years with Audemars Piguet! If I had to give just one, I would say the Royal Oak perpetual calendar skeleton in steel, N°1. It was offered to me by my boss at the time (ref to be validated) because I had sold between 15 and 18 of them, on a limited series of 25 pieces. So he told me: "You really like this watch, you must have one." And he gave me the N°1 piece.
Wow. By the way, the first perpetual calendar I ever saw was a Royal Oak I think…
That's nice. It's a good start.
Do you make watches for young people?
Please, could you define "young", about what age is it for you?
Not my age (editor's note: 12 years old) because at my age people don't buy Audemars Piguet watches yet. But someone who would be old enough to start studying or to really save money to buy a nice watch.
So we don't make watches FOR young people. But what we have seen over the years is that we have rejuvenated the brand: today many young people are in fact the ones who bring their parents to Audemars Piguet. So we sell watches to people who are 17, 18… even 15! So if at Christmas you ask your dad to put an Audemars Piguet under the tree, you'll have to negotiate.
Well, I've already tried to trade my phone for a Philippe Dufour but it didn't work. What would you say to a 15 year old kid to make him more interested in mechanical watchmaking than in his Apple Watch?

Come to visit us here in Switzerland! Come and see what we do! Come and see how we work! In fact, take a look for yourself. You love my office. This is not the traditional office of a watchmaker boss. Look, there's not even a watch pictured. I'm surrounded by all kinds of cool stuff and every item in here has a story. That's the spirit of the brand. I always say "Audemars Piguet is a serious brand that doesn't take itself seriously".
So, to all these young people, I would say "Come to visit us."»
Et quels sont les atouts de la marque pour le séduire?
Precisely, this side, "we don't take ourselves seriously." There are also all the partnerships we have today in the music world. It helps, in the world of sports and entertainment. We have a lot of high-profile people who wear our watches and talk a lot to young people.
We talk a lot about sustainability. What does that mean to you?
Sustainability of what? In the sense of the environment or in the sense of "we've been around since 1875 and will still be around in 4075?"
I mean, what do you think about when I say sustainability?
First of all, the longevity of this company. And the mission received from the board of directors… which are families, there are Audemars and Piguets who give us the instructions for the future and tell us that they want to be here for the next 200 years. That's the first thing I think about. Then there is environmental sustainability. This is a complete, global subject, on which a lot of work has been done over the years and must be continued. We still have a lot of work to do to make sure that when we'll leave the planet to our children, we, the parents, will pass it on in the best possible condition. By the way, do you see the little character on the window sill? It's an adult giving the Earth to a child. That's a great image for me and it represents what I have to do.
Are you more of a TikTok, Instagram or LinkedIn person?
None of them! I'm not on any network. I hide myself and I don't consult them. On the other hand, for Audemars Piguet, it's Instagram first today, there is also TikTok. We are on most of social networks. The brand has to be there, I don't need it.
What advice would you give me to be able to live my passion and work in the watch industry?
You sign an exclusive contract with me today for the next 200 years, right? (laughs).
Would you like to add something?
I hope this is not the first and last time we meet. Because you have a great character and I love the way you operate. I think "You, I want to follow you, to know what you are going to do with your life." I don't have a degree. I sucked at school. I don't even have a high school diploma… I didn't like school, but I love learning! I'm a hardcore instinctive. So when I see a profile like you coming into my office, I think it's great. Cultivate your curiosity and keep learning about everything, that's the secret!
Thanks, that's a great compliment.
Would you like to take a selfie with me for my album?
Absolutely, of course we'll take a selfie.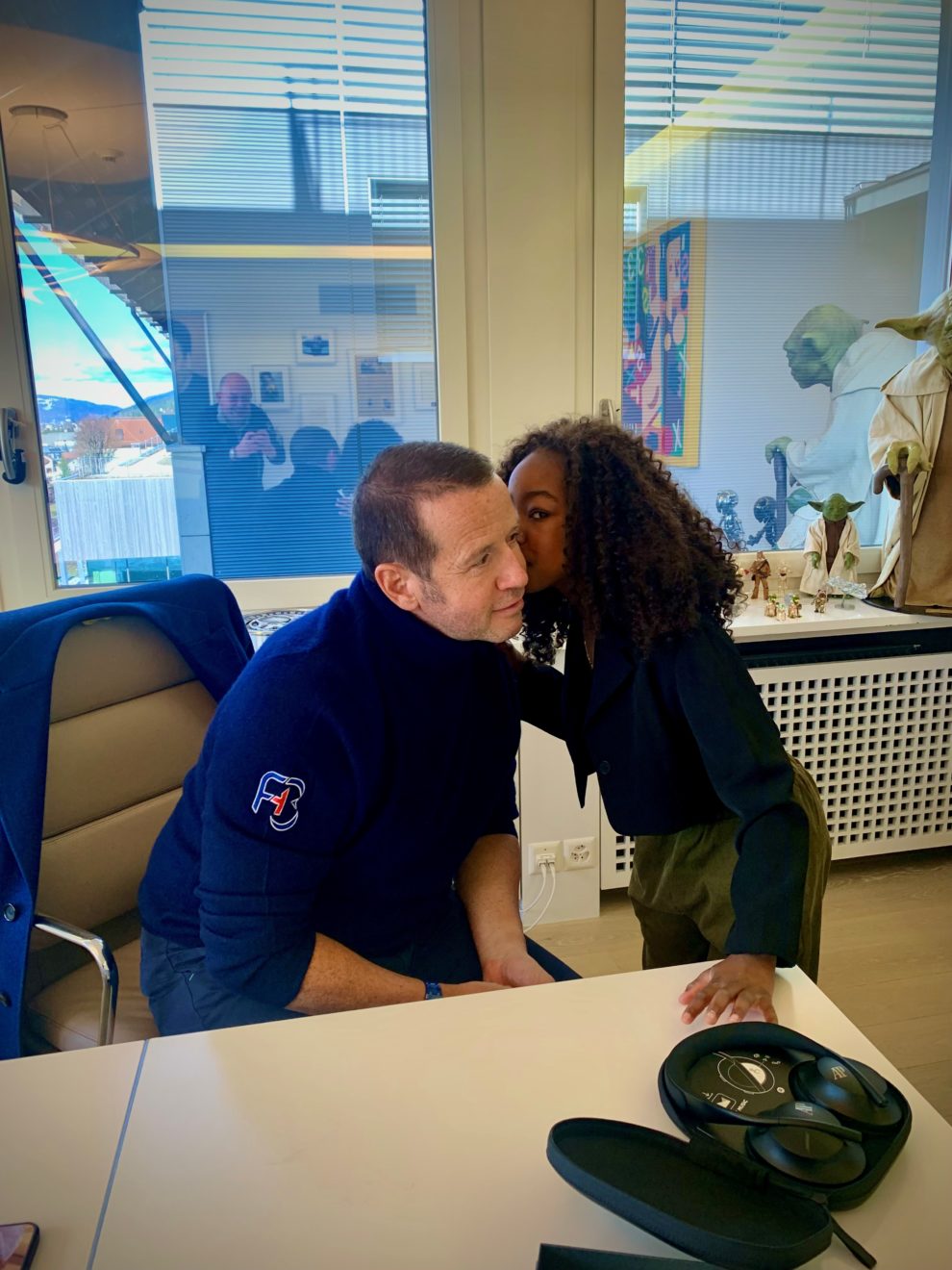 Crossed questions: the interviewer interviewed
François-Henry Bennahmias: I heard, because I asked about you, that you wanted to be a watchmaker and a designer… But that you didn't want to work for us, that you wanted to work for Bulgari. Why did you say that?
Amandine: Well, the moment I fell in love with watches was at a Bulgari party where my father took me. And since then I told myself that I wanted to be a watch designer at Bulgari and maybe create my own brand if I could.
So if one day you come to an Audemars Piguet party, you're going to tell me that you want to work at Audemars Piguet? So I have to invite you to one of our events to make you change your mind and come to us?
Uh… I don't know, I'll have to see. But I would really like to work at Bulgari first. And then, if there is a new brand that is founded and I really fall in love with that brand… That's my choice for later, but maybe in ten years, at Bulgari, the people in charge of the management and the design will have changed and I won't be interested anymore.
But how could I convince you, today, that if there is one Manufacture for which you are going to work, it is Audemars Piguet?
Hum… I don't know. What I like about Audemars Piguet is the colors. When I see for example your… uh your Royal Oak which is blue, it's really cool to have an electric blue like that. Your watches have both a very classic style like my father would wear, while he probably wouldn't wear a flashy blue that I would wear without any problem.
Here, I'll let you try my watch…
Wow, it's so beautiful. It's still a little big but it fits me well. I'm going to run away now?
It looks good on you, but if you think about it for two seconds, you'll have to run very, very fast! Do you like it? Well, I hope you understand that at some point… here is where it happen.